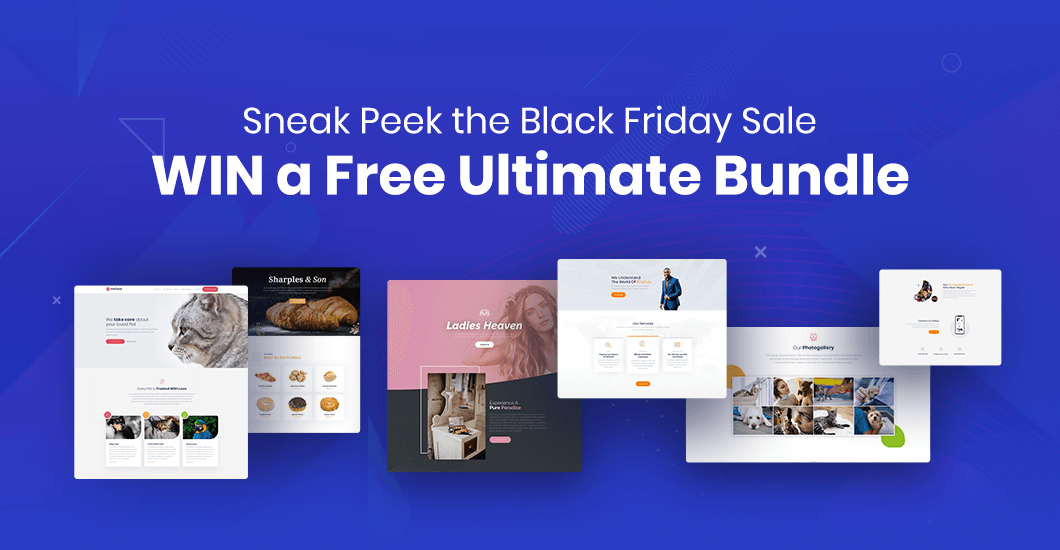 Black Friday is upon us once again, and it's creeping up faster than you think. The biggest sale of the year will take place on Friday, November 29th at exactly 12:00 AM until December 2nd at 23:59 GMT, and it's the best time to shop for DIVI products to level up your website game.
This year we're going to make it extra special by offering you the sweetest and most exclusive deals around. Take advantage of HUGE discounts on DIVI themes, plugins, and so much more! We're also giving away plenty of free gifts and prizes, plus you even have a chance to win a FREE Ultimate Divi Bundle.
Are you getting anxious already? Let's take a look at some of the exciting savings waiting for you!
→
Exclusive Layouts
For this year's Black Friday, our awesome and generous design team has prepared something special for all DIVI lovers out there. They've crafted 3 beautiful layouts that we're giving away for FREE! Yes, you heard it right, they're for FREE! These exclusive free DIVI layouts include:
➡ Bakery Layout
➡ Beauty Salon Layout
➡ Financial Service Layout
These exceptional designs have everything you need to create the most stunning DIVI website out there.
→
WIN A FREE Ultimate Divi Bundle
No, your eyes are not deceiving you! We're really giving away a FREE DIVI bundle of our top-rated products. And winning has never been easier!
Simply click the "Enter to WIN" button below and enter your email address in the signup form that will pop up, and you can have a chance to WIN a free DIVI bundle of our amazing products valued at more than €2300!
It's that simple. It's that easy, cause no one does freebies like us. So how about testing your luck this Black Friday? Who knows, lady luck may come knocking on your door! But make sure to bookmark this page and come back on November 29 so you'll never miss out on this rare chance.
→
New Premium Divi Theme
In line with the awesomeness that is Black Friday, we are releasing a brand new DIVI Theme for the veterinary industry. With over 15 custom layouts designed, beautiful animations, and well-thought-out structure, it's the perfect theme for any vet care practice.
And to get you even more excited, check out the Theme's demo here
→
Free Holiday Icon Plugin
The Holiday Season is fast approaching, and we can't help but get caught up in the spirit of Christmas. That's why our B3Multimedia elves have prepared another awesome freebie for everyone!
We're giving away our Holiday Icons for Divi Plugin as a free gift for you. It will add around 120 cool handcrafted holiday icons to your Divi Builder. Aside from Christmas and New Year icons, the set also includes icons for Halloween, October Fest, and even some oriental events.
Simply click the button below and you're all set! Again, make sure to bookmark this page so you won't forget these amazing deals and freebies once Black Friday begins. You don't want to be the last one to get something as fantastic as this!
→
The Ultimate Divi Bundle
Are you in love with our products and can't get enough of them? Then we have something special that will keep you on your toes! During this Black Friday Sale, you can SAVE BIG when you purchase The Ultimate Divi Bundle, which includes all our incredible products.
Nope, we're not kidding! And we say big, we mean that's a MASSIVE 60% DISCOUNT! It's our way of showing some love back to all DIVI fans out there. Keep in mind that this exclusive offer is only available once a year, so don't miss it out!
→
Elegant Themes Black Friday
But wait we're not done yet! It's Black Friday Sale, and there's no stopping us from giving away even more hard-to-resist deals and freebies.
Every year, we partner with Elegant Themes to provide you with even more chances to get amazing DIVI stuff for free. This Black Friday, you can take advantage of our theme or plugin for free by purchasing an Elegant Theme subscription.
What's more, is that you can also win a Mac PRO for FREE! This powerful bad boy is brand new and unreleased. So if you want to be the first one to own it, check out ET's Black Friday Prizes (And More) for more details.
Get ready for Black Friday Sale on November 29! With all these savings and free gifts, you will not want to miss it. Be sure to sign up for our waiting list and be the first one to get notified of our exclusive deals!​

Aileen Cuaresma
Aileen is a Technical and Creative writer with an extensive knowledge of WordPress and Shopify. She works with companies on building their brand and optimizing their website. She also runs a local travel agency with her family. On her free time, she loves reading books, exploring the unknown, playing with her two adorable dogs, and listening to K-pop.