Description
The best way to achieve awesome effects in Divi without writing a line of code!
The Divi Toolbox empowers you to achieve effects which normally can only be done with custom CSS, PHP or Javascript! Now, you'll be able to easily make these changes in the Divi Theme Customizer. Make your website awesome without any coding skills!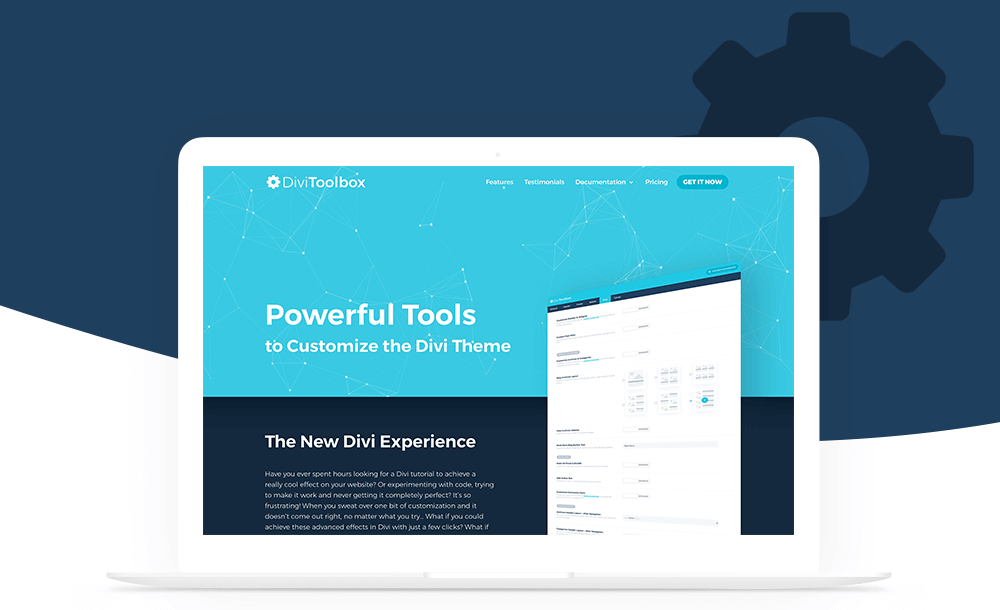 Make Site-wide Changes Fast
The Divi Toolbox lets you pick the elements you wish to change. When you enable a feature, it appears in your Theme Customizer, where you can make adjustments and site-wide enhancements with just a few clicks.
Logo and Header Custom Look
You can modify your logo and header with ease. Create a custom dropdown menu, add a CTA menu item, or edit hover effects. You can also change your logo on a fixed header, create an overlapping logo effect, and display any layout from your Divi library before and after header.
Fine-tune the Mobile Menu
Create the best mobile experience by adjusting your mobile menu! With Toolbox, you can make the mobile menu bar fixed, enable slide-in mobile menu, add hamburger icon animations, collapse nested submenus, and change your logo for mobile menu!
Make Divi Blog Awesome!
The Divi Toolbox has six (!) custom layouts for your blog categories and archive pages. You can further customize each element in your chosen layout. You can also customize your single post page by adding an author box, related posts, and the previous/next post navigation. Even more: you can add custom header layouts on archives, and globally customize or hide the sidebar. Create the best blogging experience on your website!
What our clients say about our products

Just used the Polygon theme for a client's site. Beautifully designed theme and fast, helpful support. If you are looking for a Divi Child Theme that your clients will love, then definitely check out B3 Multimedia.

Maciej was helpful and generous with me in regards to one of his plug-ins. I am certainly looking forward to working with him and his company in the future. Thanks again!

We like the complexity and endless optimisation options available on B3's themes. You can truly make your websites look bespoke and unique. All this is topped up with impeccable customer services. 5-stars well deserved.

Just Great, I can not say much more, you should check out them for yourself, I am glad I did.

Great themes, easy to handle, great documentation and really good support!

This theme is beautiful and functional as all other themes. This is the 3rd Extended License I've purchased and let me tell you, Maciej and the rest of the crew know what they're doing. Support is amazing. They're very helpful and patient.

Gorgeous designs and some of the best support I've seen. Highly recommend!

Just finished up adding a testimonial portion to a client's site and with the Testimonial Slider – I was able to do so quickly and efficiently – slick, sleek and very much a "Must Have" on sites now that want testimonials! Thanks for making such a gem like Testimonial Slider!
Only logged in customers who have purchased this product may leave a review.
Requirements:
This plugin requires that you have the Divi parent theme for WordPress installed. It is not included with this product.
Support:
Support is provided for 6 months from the date of purchase (excluding free version). The plugin will continue to work without any additional payment but B3 Multimedia will not be responsible for any conflicts due to updates by Divi, WordPress or any other third party plugins or extensions.