In order to install this plugin, you must first purchase a membership to Elegant Themes and download the Divi or Divi Builder plugin.
Download package includes:
divi-icons-pro.zip – installable plugin file
Read_Me.pdf – links to support and documentation
Step 1: Add new plugin
Go to Plugins/Add New and click Upload Plugin

Select divi-icons-pro.zip from your computer
Click "Install Now"

Completing the upload, you will need to activate the plugin by clicking on the Activate button.
Step 2: Activate your product
To activate your product and get updates please go to Settings → Divi Icons PRO Activation and enter your API Key and API Email.
To see your API Keys please login to your account.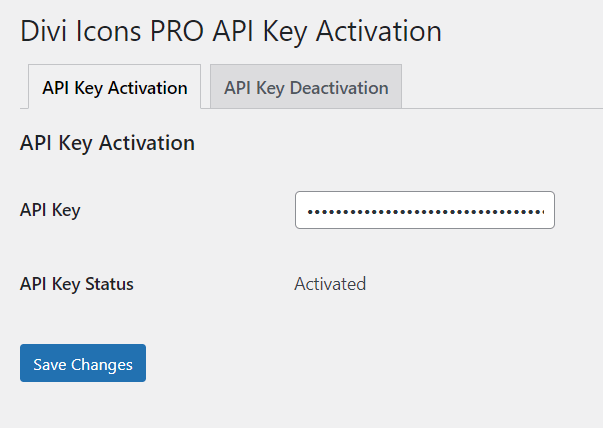 Icon Font Families
Divi Icons PRO adds 3 icon font families to your Divi website, over 2400 custom icons in total:
– 1200 Font Awesome Icons
– 900 Google Material Design icons
– 360 Custom Line Style Icons designed by us!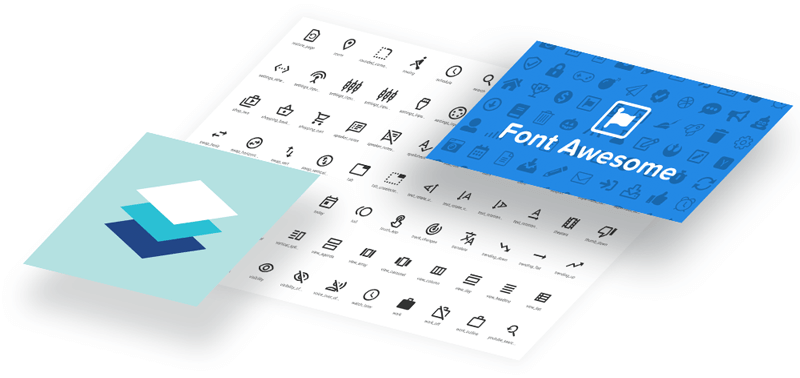 Plugin Options
Divi Icons PRO has custom settings which can be accessed in Divi/Theme Options/Divi Icons PRO
Here we can decide which font families should be active and which not.
Divi Icons PRO offers a huge icon library that is significant in size. If we know that we won't use all that icons and want to optimise plugin performance we can switch off specific font families in plugin settings.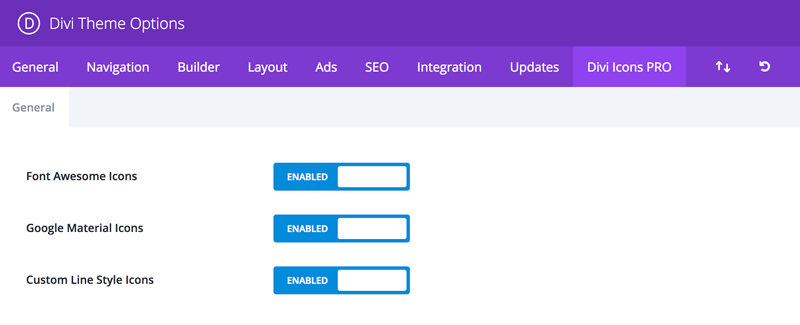 How to use Divi Icons PRO
After Divi Icons PRO is installed, we will see all new icons in our Divi Builder modules.
We can filter icons by clicking filter buttons.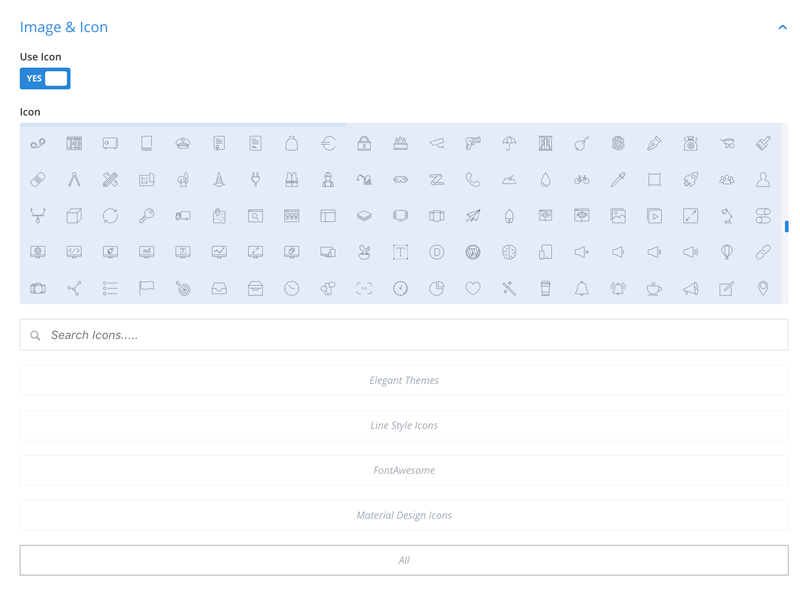 Fatal error on activation
If you are getting errors on activation this is most likely outdated PHP version running on your server.
Please make sure you are using PHP 5.6 or later (7+ recommended).
Problem with downloads
If you are having an issue and cannot access your files in your account section please clear your browser cache and try again. If the issue persists please contact our support and we will check and fix this issue for you.
Licensing
Regular license can be activated on one domain only. Extended license can be activated on unlimited domains.
Moving license to another domain
If you want to transfer license to another domain it is important to deactivate the license on current domain before it gets transferred to a new domain.
Elegant Themes
For additional assistance with using the Divi theme framework, Elegant Themes offers free technical support to all their members. Login to your account at Elegant Themes website.
Divi Communities
You can also find support on Facebook or Google+ by posting your questions in the community group:
Divi Theme | Extra Theme | Help & Share.
B3 Multimedia Solutions
For questions or support please visit your account and submit support ticket:
2021 December 13th – Version 1.4
Divi 4.13+ compatibility issues fixed
licensing API library updated
Divi 4.14.2 and WP 5.8.2 compatible
2021 January 25th – Version 1.3.2
icons filter UI improved
dashboard JS error fixed
Fullwidth Header module icon visibility issue fixed
Divi Filter Grid support added
Divi Gear Blog Carousel support added
Divi Essential plugin support added
Supreme plugin popup close icon issue fixed
Elegantshop plugin support added
API licensing updated
Divi 4.8.1 and WP 5.6 compatible
2020 September 15th – Version 1.3.1
NEW: Divi Pixel plugin support added
NEW: Divi Supreme Pro plugin support added
NEW: Option to display a large icon in the Divi Builder
DG Carousel plugin support added
Divi Booster uploaded icons not displayed issue fixed
icons not displayed in the Theme Builder/Extra theme issue fixed
searching/filters UI improved
Divi 4.6 and WP 5.5.1 compatible
2020 July 28th – Version 1.3
NEW: Divi Builder plugin support added
NEW: Divi Flip Cards plugin support added
NEW: Divi Machine plugin support added
multiple icons displayed when the module is duplicated issue fixed
multiple icons displayed on Button module in backend builder issue fixed
icons filtering functionality missed when Theme Builder is used issue fixed
plugin performance improved
fatal error when Divi theme not active issue fixed
Divi 4.5.1 and WP 5.4.2 compatible
2019 December 6th – Version 1.2.2
Mixed icons after update issue fixed
2019 December 3rd – Version 1.2.1
API Key encrypted on plugin activation screen
Divi Icons FREE and Holiday Icons compatibility issue fixed
Woo Module Add to Cart icon issue fixed
Divi 4.0.7 and WP 5.3 compatible
2019 October 25th – Version 1.2
backend builder icon rendering issue fixed
Divi 4.0.3 and WP 5.2.4 compatible
2019 July 9th – Version 1.1.5
new code structure
backend builder Button module issue fixed
backend builder Shop module issue fixed
icon animation issue fixed
Visual Builder compatibility improved
DG Product Carousel support added
WC Divi Builder support added
Divi 3.25.4 and WP 5.2.2 compatible
2019 February 10th – Version 1.1.4
new API code added
mixed icons displayed during loading issue fixed
Divi 3.19.13 and WP 5.0.3 compatible
2018 December 21st – Version 1.1.3
new Divi builder icon displaying issue fixed
circle icon issue fixed
Divi 3.19 and WP 5.0.2 compatible
2018 December 14th – Version 1.1.2
Layered Popups plugin issue fixed
searching feature in new back-end builder issue fixed
Divi 3.18.3 and WP 5.0 tested
2018 December 1st – Version 1.1.1
displaying icon in Shop module issue fixed
duplicated icons when inline code used issue fixed
Breadcrumbs plugin conflict fixed
2018 November 27th – Version 1.1
load fonts from CDN option added
Divi Booster plugin conflict fixed
duplicated icon with inline use issue fixed
2018 August 22th – Version 1.0