Divi Estate Documentation
Getting started
In order to install this child theme, you must first
purchase a membership to Elegant Themes and download the Divi theme package.
This version of Divi Estate is fully compatible with versions 3.0+. Some features or elements may not be compatible with previous versions. Please ensure that you've downloaded the latest version of Divi.
Installing child theme
Step 1: Install Divi Theme
Once you've downloaded the Divi theme package, login to your WordPress website and go to Appearance > Themes.
Find and upload the Divi parent theme and activate it. Next click on the Add New Theme.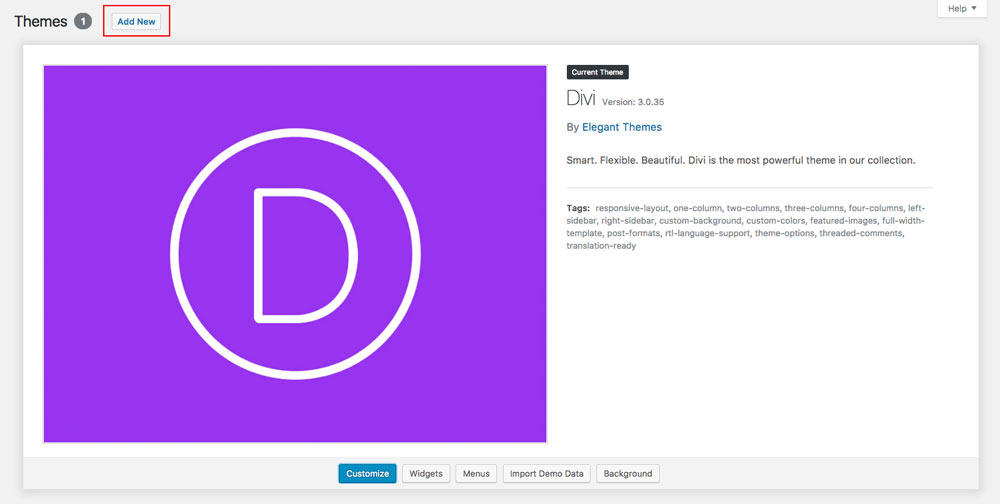 Step 2: Install and activate DiviEstate
Click on Upload Theme.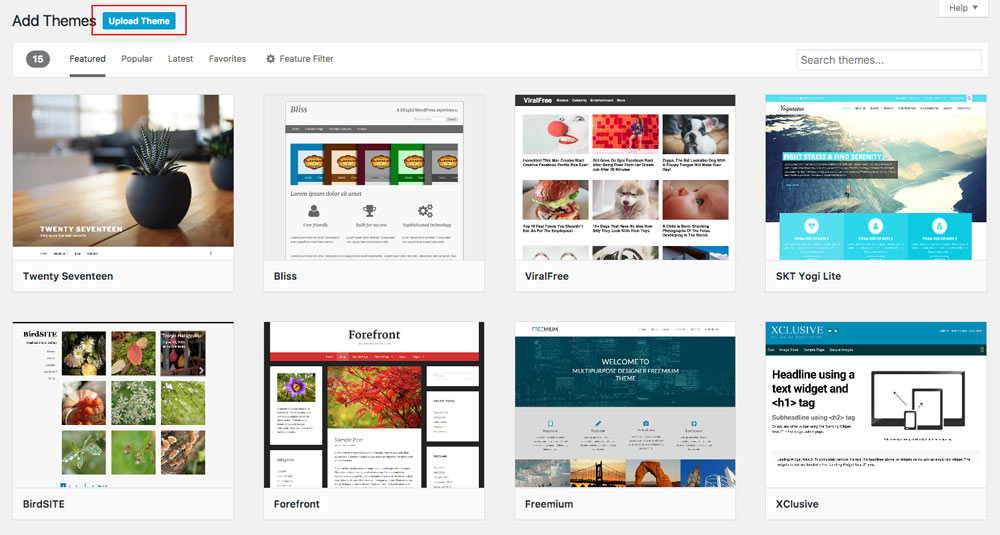 Click on Choose file.
In the downloaded package find and select DiviEstate.zip file, then click on the Install Now button.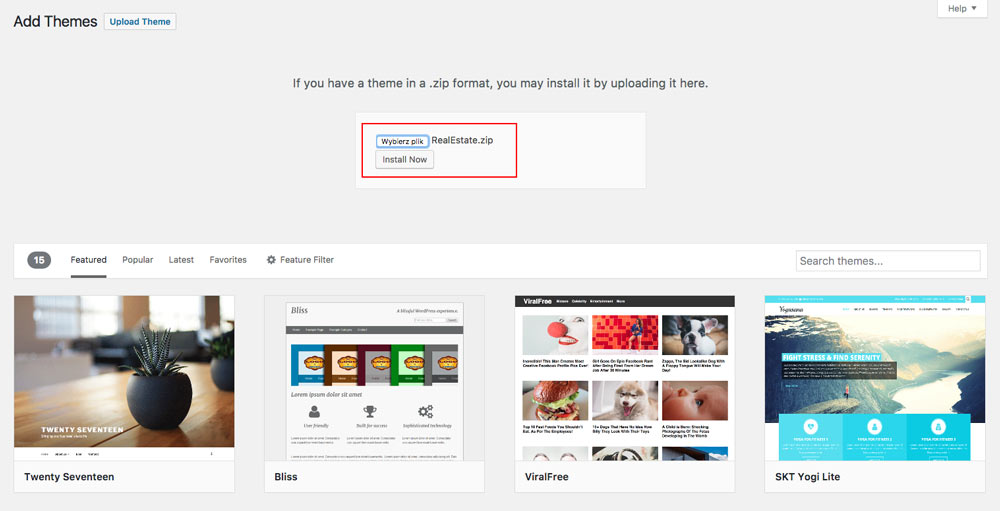 Completing the upload, you will need to activate the theme by clicking on the Activate button.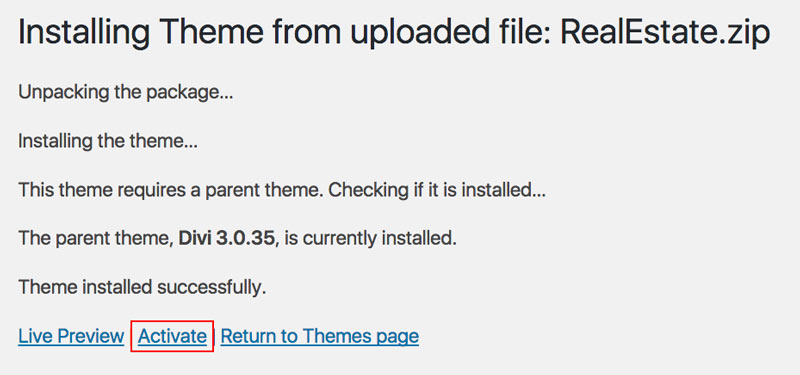 Step 3: Activate your product
To activate your product and get updates please go to Settings > DiviEstate Activation and enter your API Key and API Email.
To see your API Keys please login to your account.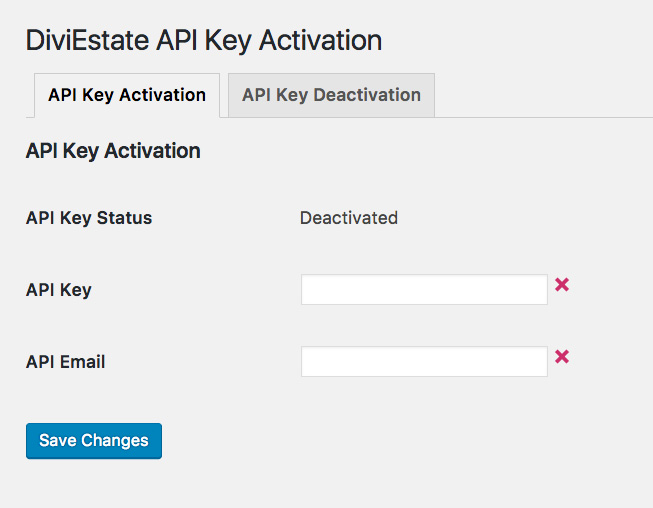 Step 4: Install Plugins
DiviEstate requires 6 plugins: ACF: Google Map Extended, Advanced Custom Fields, Breadcrumbs NavXT, Caldera Forms, One Click Demo Import and Recent Post Widget With Thumbnails. We have made installing process very simple. After DiviEstate child theme is activated system will ask you to install all missed plugins. Click Begin installing plugins.

On the next screen select all plugins, choose "Install" from dropdown menu and click Apply.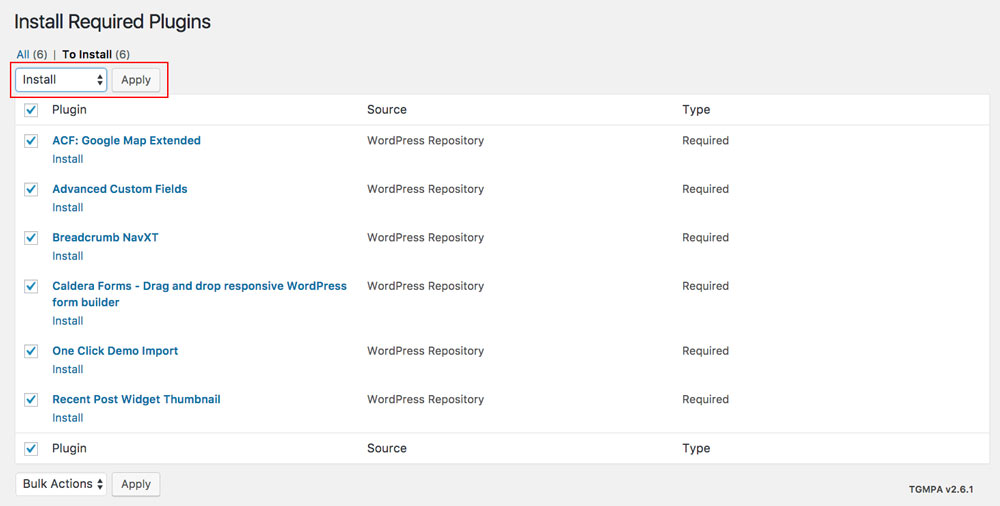 Step 5: Import Breadcrumbs settings
Go to Settings/Breadcrumb NavXT and expand "Help" section.
Select Import/Export/Reset tab and click Upload File.
In the downloaded package find and select bcn_settings.xml file, then click on the Import button.

Step 6: Permalinks setup
To make the Contact Form Popups working, Permalinks Settings have to be setup to "Post name".
Go to Settings > Permalinks, select "Post name" and click Save Changes.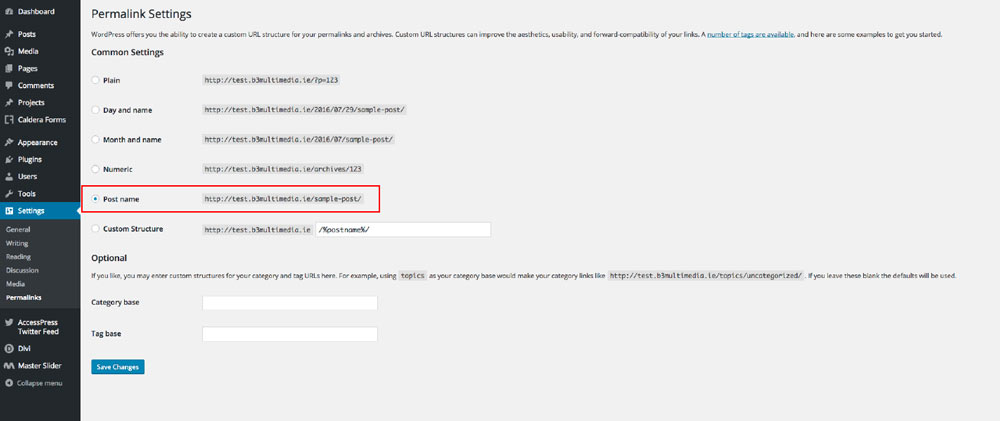 Step 7: Google Map API
In order to make property map working we need to get Google API Key.
Go to Divi > Theme Options, find "Google API Key" and paste your code.

Step 8: Disable Visual Text Editor
DiviEstate uses custom icons which are applied via span classes. This is unfortunately not supported by WordPress and when we have Visual Text Editor enabled this causes issues, icons disappear.
To disable Visual Text Editor please go to Users and click your user account.
Find Visual Editor option located at the very top and mark box Disable the visual editor when writing.
This will prevent icons disappearing.

Importing demo content
Step 1: Now you will need to install the library and all theme settings which allows you to have your site just like the demo version.
Go to Appearance > Import Data Demo, and click on the Import Demo Data button.
Note: This may take even several minutes, depends of internet connection speed. Please be patient.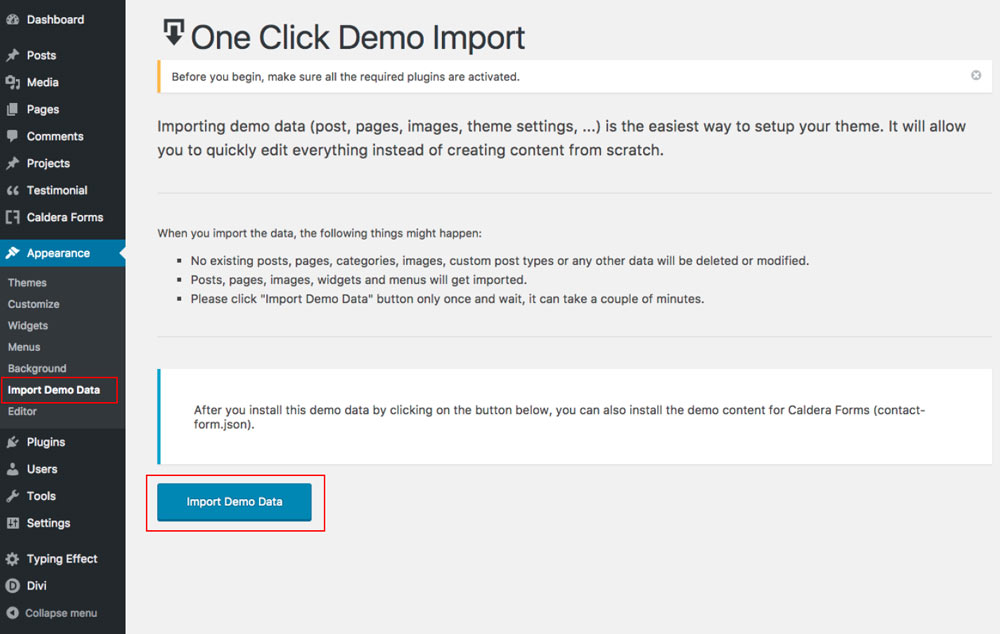 Step 2: The theme has 3 pre-built forms. They need to be imported from download package. Go to the Caldera Forms tab located in your WordPress Dashboard and click Import button. Select "contact-form.json" file located in Import Files folder and click Import button. Follow the same steps for all other forms.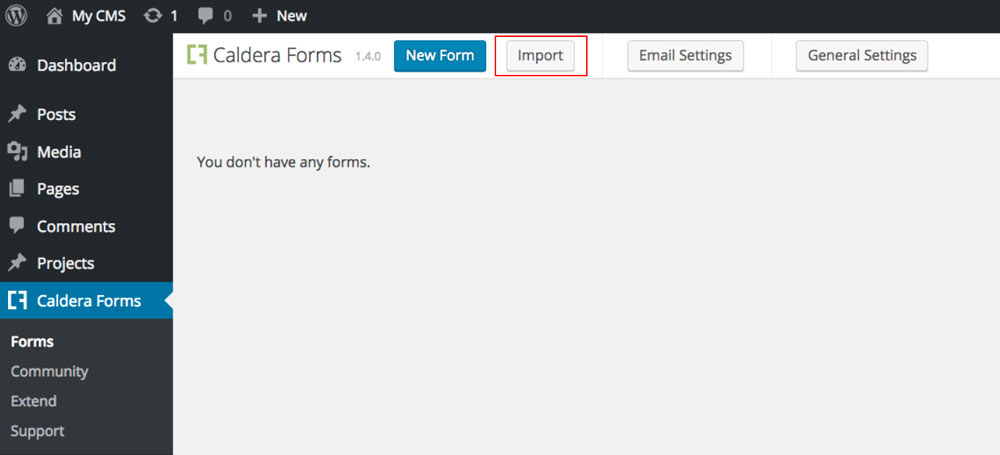 DiviEstate options
1 General
Site Currency – Input field.
Area Unit – select Sq/ft or Sq/m.
Agents Header Image - allows to upload header background that is displayed on agent pages.
Text displayed if price not specified – input field.
Results per page – this field defines how many properties is displayed on one page.
2 Preloader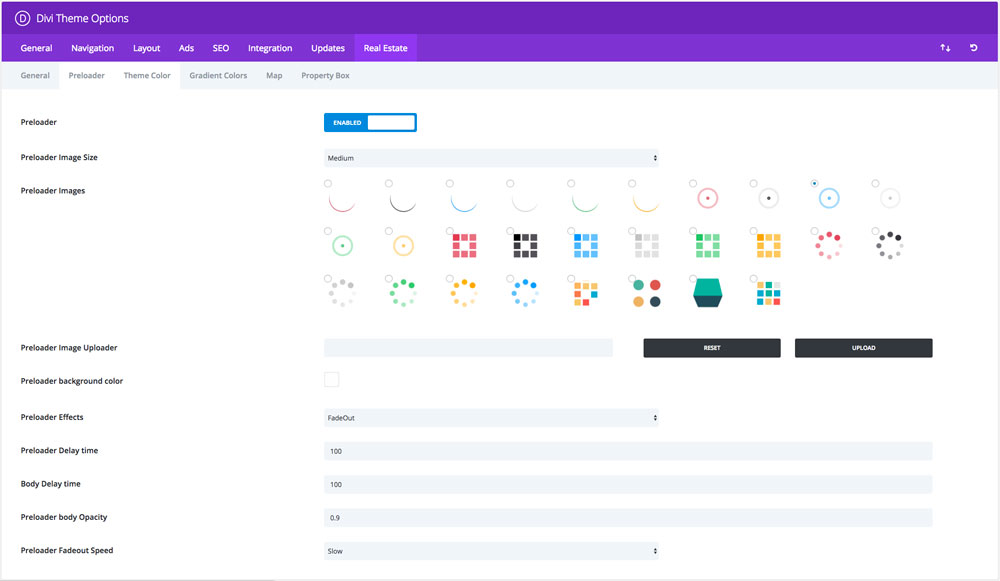 Preloader – Enabled/Disabled
Preloader Size – define preloader size: width and height
Preloader Images - select preloader image
Preloader Image Uploader – you can upload your own preloader/gif image
Preloader background color – define background color for preloader
Preloader Effects – define effect FadeOut/SlideUp
Preloader Delay time – define preloader delay time
Body Delay time – define body delay time
Preloader Body opacity - define background opacity
Preloader Fadeout speed - define speed of preloader fadeout effect
3 Theme color
Here you can define your website accent color. It applies for all custom elements that color cannot be changed in Divi Customizer.
4 Gradient colors
We have made it extremely easy to use gradients on your website. You just need to specify 2 colors and you are ready to go.
To use gradient background for module, section or row just add re-gradient class.

5 Map options
Map Parallax – Turn on/Turn off parallax effect on the map
Map Marker Images - Select map marker from 6 predefinied colors
Map Marker Image Uploader –  upload your own map marker
6 Property Box

7 Languages
Translate DiviEstate into any language! There is 11 languages already available (German, Spanish, French, Polish, Portuguese, Sweden, Russian, Italian, Turkey, Dutch).
For more translations please install Loco Translate plugin.

Elegant Themes
For additional assistance with using the Divi theme framework, Elegant Themes offers free technical support to all their members. Login to your account at Elegant Themes website.
Divi Communities
You can also find support on Facebook or Google+ by posting your questions on the community group:
Divi Theme | Extra Theme | Help & Share.
B3 Multimedia Solutions
For questions or support please visit your account and submit support ticket:
2017 June 7th - Version 1.2
property ID added to agent contact form

custom property ribbon feature added

swedish translation fixed

gradient issue fixed

Agents page pignation added

footer credentials issue fixed

missed homepage layout added

option to assign 2 agents to property

agent image clickable

CSS improved

agent box responsive issue fixed
2017 May 3rd - Version 1.1
multilingual support (translations ready)
front-end property submission added
responsive issues fixed
2017 March 31st - Version 1.0.1
property description white text issue fixed
contact/add property form issue fixed
paddings issue on the blog feed fixed
property status issue fixed
more options to advanced search functionality added
2017 March 22nd - Version 1.0
Release date